Introduction
In the world of materials science, innovation often hinges on discovering new building blocks with exceptional properties. Tantalum oxide powder, a seemingly unassuming substance, has emerged as one such essential component with a profound impact on various industries. In this article, we explore its role and influence in the realm of materials science.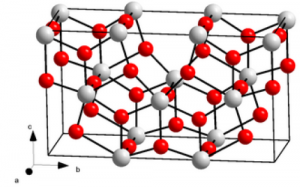 Tantalum Oxide: The Unassuming Hero
Before we delve into its influence, let's first understand the elemental foundation of tantalum oxide. Tantalum, a rare and robust transition metal, combines with oxygen atoms to form tantalum oxide (Ta₂O₅). This compound, often overlooked, conceals a treasure trove of remarkable properties.
High Dielectric Constant: It boasts an impressively high dielectric constant, making it an excellent choice for capacitors. These capacitors can store more charge in a compact space, enabling miniaturization of electronic components.
Chemical Stability: This oxide exhibits remarkable chemical stability, resisting corrosion and decomposition even in the harshest chemical environments. This property ensures the longevity and reliability of materials used in various applications.
Thermal Resilience: Its thermal stability is equally impressive, making it a preferred material for high-temperature applications. It serves as a protective coating for critical components in aerospace, automotive, and industrial machinery.
Low Leakage Current: Tantalum oxide capacitors exhibit minimal leakage currents, ensuring efficient charge retention. This feature enhances the energy efficiency of electronic devices, contributing to longer battery life and reduced power consumption.
Applications across Materials Science
Tantalum oxide's multifaceted properties are leveraged in various materials science applications:
Advanced Materials Synthesis: Researchers use tantalum oxide as a precursor in the synthesis of advanced materials, including thin films and nanoparticles. These materials find applications in electronic devices, high-temperature coatings, and advanced composites.
Nanotechnology: Its catalytic properties are harnessed in nanotechnology for the production of tantalum-containing nanomaterials. These materials drive innovation in electronic components, energy storage, and advanced sensors.
Related reading: What Is Tantalum Oxide Used For?
Conclusion
In a word, tantalum oxide powder serves as a foundational building block of progress in materials science. Its exceptional properties drive innovations in electronic components, coatings, and advanced materials, contributing to the development of smaller, more efficient, and more reliable devices.
Discover high-quality tantalum oxide powder at Stanford Advanced Materials (SAM), a trusted supplier known for uncompromising quality. A variety of grades and custom solutions are available. Send us an inquiry if you are interested.
Reference:
[1] Tantalum pentoxide. (2023, August 18). In Wikipedia. https://en.wikipedia.org/wiki/Tantalum_pentoxide